When Life Gives You Lemons,
Make Lemonade!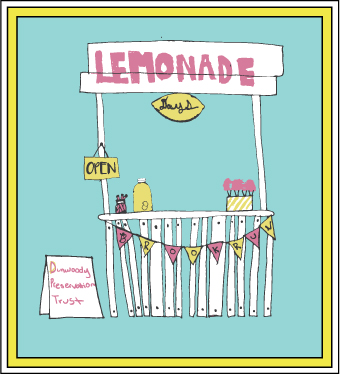 Lemonade Days Festival Wednesday April 19 – Sunday April 23, 2023

2023 DUNWOODY IDOL Auditions
For the seventh year in a row, the Dunwoody Preservation Trust Lemonade Days Festival will hold its popular "Dunwoody Idol" competition, a showcase for local middle and high school singing talent. Acceptance into the Dunwoody Idol show is by audition only.
Auditions will be held at the Dunwoody Nature Center during the Battle of the Bands Concert in the Park on March 18, 2023 from 2:00 pm till 4:00 pm, to select ten singing finalists
Auditions are free for Dunwoody Idol, contestants must be 8-19 years old and pre-register at mark@dunwoodymusic.com. 
The ten singing finalists will compete in the Dunwoody Idol competition on Saturday, April 22nd during the Lemonade Days Festival. That night, a panel of three judges will select the 2023 Dunwoody Idol winner and a runner-up. A crowd favorite will also be chosen by audience vote. 
The Dunwoody Idol winner will be awarded a full-service session of professional recording time to produce one finished track, a featured appearance at a young artists musical review to be staged at a local venue in the fall, a spot in the Dunwoody Homeowners July 4th parade and will sing the national anthem at parade end.  The Dunwoody Idol winner will also be invited to return as a featured performer on the 2024 Lemonade Days Festival stage. The Dunwoody Idol runner-up will also perform at a fall musical review.
Welcome to the 23nd annual Lemonade Days Festival – a premier Dunwoody signature event. As our largest annual fundraiser, it makes all of our other activities possible, with all proceeds used within our community for historic preservation, community celebrations and education.
Featuring full-scale carnival rides (daily wristbands for unlimited rides are available – $20/day Wednesday & Thursday Family Nights; $30/day Friday-Sunday, individual ride tickets/$1.25 each), fabulous food and beverage vendors, two days of center stage performances and the popular Dunwoody Idol contest. The Dunwoody Preservation Trust's Lemonade Days has become a highlight of the city's calendar and its most popular family event of the year.
Schedule:
| | |
| --- | --- |
| Wednesday | 4pm – 10pm |
| Thursday | 4pm – 10pm |
| Friday | 4pm – 10pm |
| Saturday | 10am -10pm |
| Sunday | 12pm – 6pm |
For daily specifics and map, click here.
Lemonade Days is held at Brook Run Park, 4770 North Peachtree Road, Dunwoody, GA 30338.
Admission to Lemonade Days is FREE!
Individual ride tickets are $1.25 each
Buy UNLIMITED daily ride passes (wristbands) for just:
$20 on Wednesday & Thursday – FAMILY NIGHTS
$30 per day on Friday, Saturday and Sunday
Wristbands valid for day of purchase only
For weather updates, volunteer opportunities and insights into this year's festival, please follow us on Twitter @Lemonadedays, Instagram or Facebook.
SORRY, NO PETS ALLOWED
Since 2016, the festival t-shirt design each year has been selected by a panel of judges from up to 250 entries from the Peachtree Middle School art department.
Thank you to Peachtree Middle School art students and art teacher Molly Newton for the 2022 Lemonade Days T-shirt design. Purchase your commemorative $20 t-shirt at the Festival!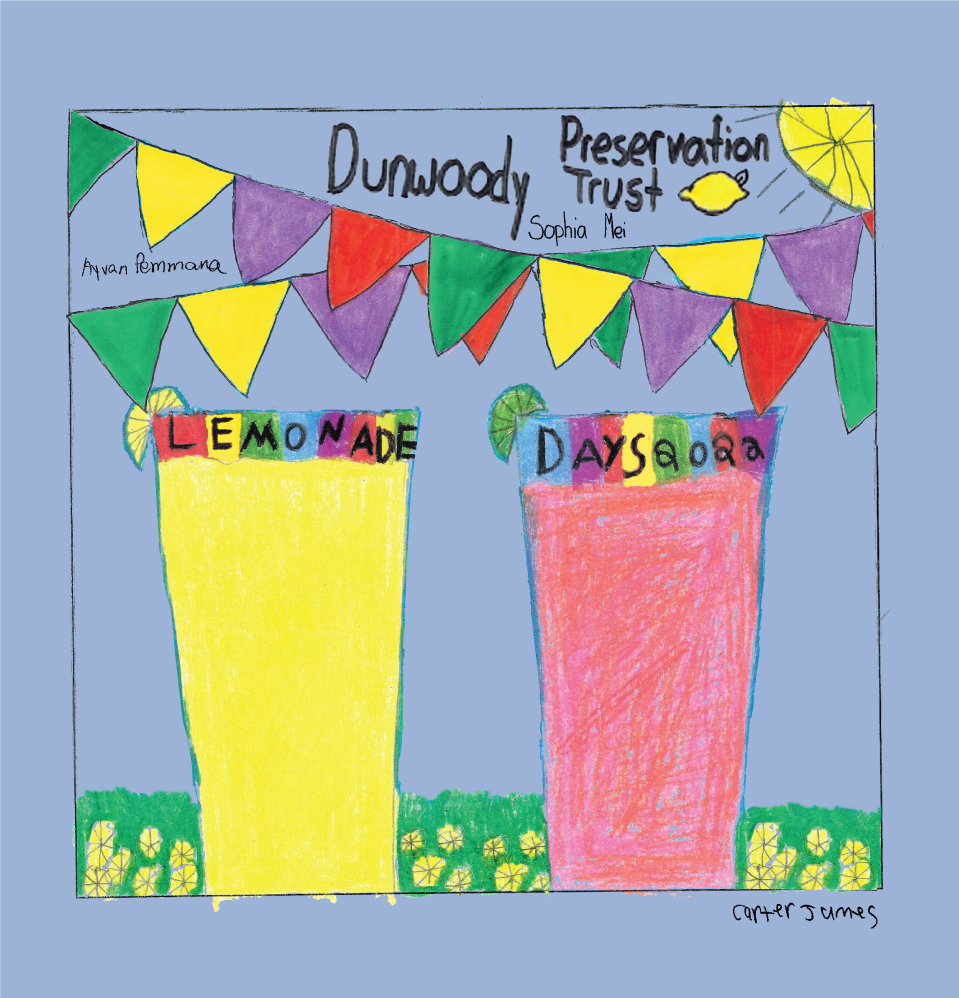 Festival T-Shirts Sold Onsite – Adult Sizes $20
Lemonade Days is held at Brook Run Park in Dunwoody (4770 North Peachtree Road).
Parking for Lemonade Days is available at:
St. Patrick's Episcopal Church
Kingswood United Methodist Church
St. Barnabas Church
Peachtree Middle School (Friday, Saturday, and Sunday only)
Back of Brook Run Park
Some Parking Areas Are Paid Parking
Please be conscious of NO Parking signs during Sunday Church schedules.
Uber/Lyft/Parent Drop-off & Pick-up will be located in the 90 spot parking area in front of the small pavilion across from the Great Lawn. Look for the sign.
Brook Run Dog Park: If you're planning on using the Dog Park at Brook Run, we won't get in your way at all. Just please use the Peeler Road entrance to the Park, and a friendly volunteer will point you in the right direction from there.
Join us as a sponsor of one of our events.

SPONSOR
Dunwoody Preservation Trust (DPT) is a 501(c)(3) organization, EIN # 58-2201646.