Camp Flashback
HAVE FUN AT THE FARM NOT FAR FROM HOME.
THANK YOU! We had a wonderful five weeks of Camp Flashback this summer and were able to keep our campers and staff healthy.  We will be back again next summer!
Join us for another year of summer fun and learning at Dunwoody's only authentic history camp – at the 1870 Donaldson-Bannister Farm in the heart of Dunwoody. Priced and scheduled for your convenience and your kids' summer schedule. Staffed by loving licensed educators with a low kid-to-staff ratio of just 5-to-1.
WE'RE EXPANDING IN 2020!
CHOOSE FROM FIVE FUN ONE-WEEK SESSIONS.
All camp weeks are full.  If you would like to be placed on the waiting list, please contact Suzanne Huff at shuff@dunwoodypt.org.
June 8-12*
June 15-19*
June 22-26*
July 6-10*
July 13-17*
SPEND YOUR DAYS LIKE AN 1870s FARM KID.
Experience first-hand how kids lived in the Olden Days:
Hand-churn butter and ice-cream
Milk and feed the goats
Groom a pony
Feed the chickens
Make and play board games
Plant herbs and sunflowers
Learn to weave and sew
Wash clothes with a washboard
Go on scavenger hunts
Run through the pasture
Learn some Dunwoody history
NO CELL PHONES, NO COMPUTERS, NO TECHNOLOGY. JUST PLAIN OLD-FASHIONED FUN!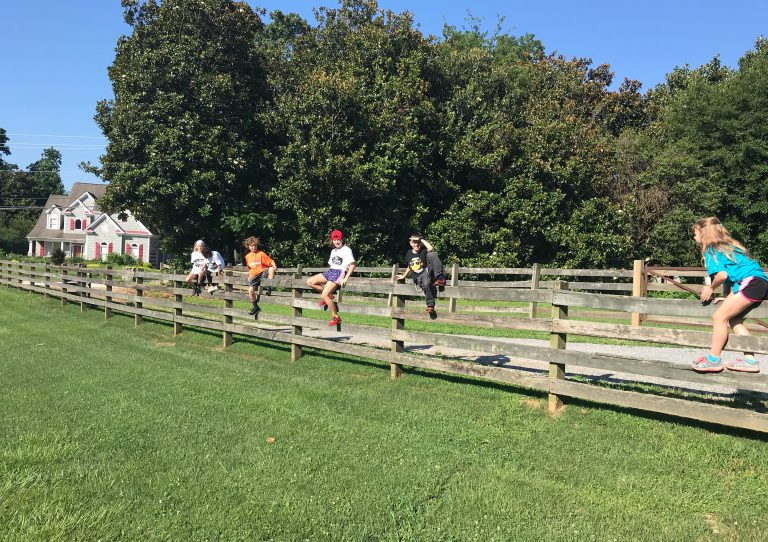 Cancellations: Refunds for cancellations will be issued (minus fees) only when an e-mail is sent to shuff@dunwoodypt.org no less than 2 weeks prior to your child's camp week. Any such request must be confirmed through e-mail by Dunwoody Preservation Trust to be considered valid. Membership is not refundable.
Convenient times:
9:00 am-3:00 pm daily, Monday-Friday
8:00 am-5:00 pm extended hours for early drop-off and late pick-up
Affordable rates:
$210/camper/week- special pricing for Dunwoody Preservation Trust (DPT) members
$235/camper/week for non-DPT members
$85/camper/week for extended hours
For Campers ages 7-12
The Donaldson-Bannister Farm is located at 4831 Chamblee Dunwoody Road, Dunwoody, GA 30338
QUESTIONS ABOUT CAMP FLASHBACK?
Please contact Suzanne Huff, our executive director, at shuff@dunwoodypt.org.
Camp Flashback is sponsored by Dunwoody Preservation Trust, manager and caretaker of the Donaldson-Bannister Farm.