Summer Rainbows
We love these views at the Donaldson-Bannister Farm following summer showers!
Dunwoody's 4th of July Parade!
Thank you to all our volunteers that helped and participated with our float at the Dunwoody July 4th Parade. We had a fabulous time!
Open House at the Dunwoody Farmhouse
Thank you for joining us at the Open House at the Cheek-Spruill Farmhouse on Thursday, June 17th.  We love showing off this iconic and historic Dunwoody home!
Preserving Dunwoody's Architectural Past
Have you seen the latest Dunwoody Guidebook? Be sure to read their article about how Dunwoody has worked to preserve it's past.  Click here to read the article.
Clean Up Day at New Hope Cemetery
Thank you to all our Volunteers that came out for Clean Up Day at New Hope Cemetery. This Historic Cemetery is the resting place of many founding families of Dunwoody. The site looks much improved and we sincerely appreciate our community's response.
THANK YOU!
Dunwoody Preservation Trust (DPT) recently inducted two new members to its Volunteer Hall of Fame. Thank you, Kathy Florence and Sara Massey!
Kathy Florence served as Co-President of DPT with her husband Tom from 2009-2011.  She had been actively involved with DPT prior that time and continues to this day.  She help organize our involvement with the 20th Anniversary of the Dunwoody Tornado, helped write our Long-Term Plan and developed ads and marketing materials for us for years.  She is also quick to volunteer with helping at events such as our Farm to Table Dinner.
Sara Massey has been an active volunteer for DPT for 15+ years.  She recently wrapped up her term as Vice President of Events/Community Outreach on our Board.  For years, she has been in charge of DPT's entry in Dunwoody's 4th of July Parade and donates hundreds of cookies that are decorated at Light Up Dunwoody.  Sara also organizes the volunteer decorating (and un-decorating) seasonal decorations at both the Cheek-Spruill Farmhouse and the Donaldson-Bannister Farm.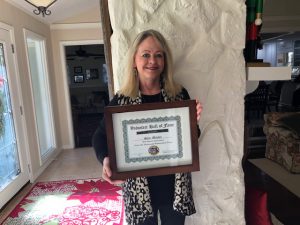 Sara Massey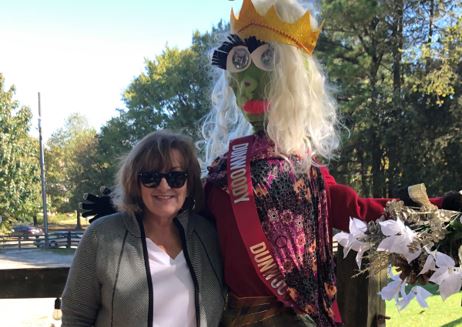 Kathy Florence
Two new wooden rocking chairs for the Donaldson-Bannister Farm
DPT would like to thank the friends and neighbors of Dr. James (Jim) Awbrey III for the gift of the two wooden rocking chairs given in his memory.  Dr. Awbrey, a long-time Dunwoody resident, opened his dental office in Dunwoody in 1972 and practiced here for 34 years.  He was known as "Dr. Donald Duck" for his ability to speak like Donald Duck.  Dr. Awbrey and his wife, Dunja, raised their three children in Dunwoody. He passed away this past summer after a long battle with Blood Cancer and Parkinson's.
One of Dr. Awbrey's passions was woodworking and building furniture. He was a MASTER woodworker, and it was for this passion that his friends and neighbors wanted him to be remembered in some way at the Donaldson-Bannister Farm across the street from his home.
A dedication ceremony was held at the farm Sunday, December 13th and attended by Dr. Awbrey's family and friends.  The chairs are located on the porch of "new" barn overlooking the pasture and welcome all to come "sit a spell" and enjoy the park.
DeKalb History Center – Donaldson-Bannister Farm Presentation
Dunwoody Preservation Trust historians, Valerie Biggerstaff and Lynn Tinley, PhD, were guest speakers at a DeKalb History Center lunch & learn on November 17, 2020, in which they discussed the long history of the Donaldson-Bannister Farm, built in 1870 by William James Donaldson and his wife, Millie Adams, who was a descendant of the family who acquired the property in the 1821 Land Lottery. View the recorded presentation here.
Thank you to ALL who gave to our campaign!
Dunwoody Preservation Trust is so appreciative of everyone that gave donations to our campaign earlier this year to help replace lost funds for not being able to host our primary fundraiser, Lemonade Days.  We did have a winner of our drawing for a catered evening at the farm – Maggie Staats!  We hosted their dinner this past weekend at the Donaldson-Bannister Farm and it was a celebration with family and friends for Henry Staats birthday.  It was a lovely evening of fine food, wine and music.
Friday at the Farm each week on Facebook Live!
Join us each Friday at 12Noon on DPT's Facebook page for our Friday at the Farm Live Video. Learn about the history of the Donaldson-Bannister Farm, what events are going on and more!  https://www.facebook.com/DunwoodyPreservationTrust
(And all past videos can be viewed on our YouTube channel as well at https://www.youtube.com/user/DunwoodyPT/)
Georgia Humanities Grant Recipient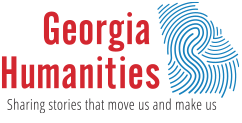 Dunwoody Preservation Trust was recently named a recipient of CARES Act funds through a grant from the Georgia Humanities and National Endowments for Humanities.  Amidst the ongoing coronavirus pandemic, funding such as this helps us keep our programming going. Thank you so very much!
For more information, please visit GeorgiaHumanities.org
Historic Driving Tour of Dunwoody
Looking to get out of the house and want to learn some of Dunwoody's History?  Take a look at our new driving tour on the PocketSights app for your smartphone.  This is a free app and you can find numerous walking and driving tours around the country.  We are the only tour in Dunwoody.  The tour starts and ends at the Cheek-Spruill House and will take you on a 20-mile round trip tour to view 17 historic locations in the City of Dunwoody.  Along the way you can view past photos and read about the history of these sites. Check us out!